General Remodeling |

Huntington Beach, CA

General Remodeling
Huntington Beach, CA
We made sure this home was ready just in time for the holidays. Check out this Before and After Interior Remodel for a home in Huntington Beach. We installed new flooring, remodeled the fireplace, and built a new entertainment center.
Location Huntington Beach, CA
Year Winter 2019
Budget $15,000 - $25,000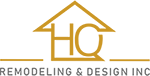 HQ Remodeling & Design, Inc.
Residential Remodeling Experts
REVIEWS